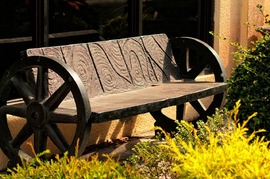 Gille Ceann Beinge
Posted by Shelagh on Thursday 12th February 2015
It's not long until Valentine's day, and so this week we are looking at two phrases associated with courtship and marriage:
The phrase gille ceann beinge was collected in Harris, with the definition given as "some man that takes up residence in his bride's home. Supposedly, always an outsider thus not getting near the fire but sitting on the 'beinge' [bench] as when he was a mere suitor." Hopefully new husbands would be given a warmer welcome these days!
The other phrase was collected in South Uist as well as Barra–Suirghe fad air falbh 's pòsadh am bun na h-ursainn, which literally means courting far away then marrying the next door neighbour. (bun na h-ursainn is the cross-piece at the bottom of a doorpost.)
This phrase also appears in Ugam agus Bhuam by Peter Morrison of Grimsay, North Uist, published in 1977:
"Agus tha iad a 'ràdha , seann daoine a 'ràdha: 'Suiridhe fad o laimh is pòsadh am bun na h-ursainn.'" [and they say, the old men say: 'courting at a distance and marrying next door.']
Whether you are courting at a distance or closer to home, we would be interested to hear of any other traditional Gaelic phrases connected with romance through our Facebook and Twitter pages.
Archived Posts
2022
2021
2020
2019
2018
2017
2016
2015
2014