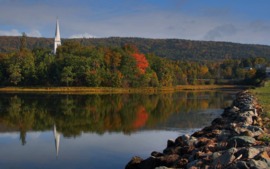 Gàidhlig na h-Albann Nuaidh (Àireamh 1): Ainmean-àite agus Cainnt Còmhraidh
Posted by Calum on 6th December, 2018
I have a strong interest in the dialects and accents of Scottish Gaelic. It is extremely interesting to me how each dialect is different in terms of their own unique features, speech and phrases. It is Cape Breton Gaelic that gripped my attention this week. This takes in the
mòr-roinn
(province) of Nova Scotia, on the
tìr-mhòr
(mainland) – especially Guysborough County, Antigonish County, Pictou County – and Cape Breton Isle – Richmond County, Inverness County, Victoria County and Cape Breton County. A couple of months ago, the DASG team was present at Kathleen Reddy's talk on the topic, Kathleen is from Nova Scotia itself, at the University and I thought it would be good to write about the placenames, words and phrases of the Gaelic-speaking people of Canada. Not everything written in here will be completely correct or truthful but it is fun to have a look on what is recorded anyway!
Many words were recorded with many various meanings but we tried to connect them with the words we have in
Faclan bhon t-Sluagh
from other regions in 'an t-seann dùthaich' ('The Old Country', Scotland).
Starting with placenames, there are various Gaelic placenames for English placenames in Nova Scotia. The town
New Glasgow
is named Am Baile Beag/Glaschu Nuadh ('The little town/NewGlasgow'), and it's Am Baile Mòr ('The Big Town') for
Antigonish
. The An t-Àrd Bhaile ('The High/Main Town') is the name for the capital of the region,
Halifax
, and
Englishtown
is called Baile nan Gall ('Town of the Foreigner'). Interestingly,
Inverness
is named An Sìthean (the Fairy-hill) and
Iona
is Sanndraigh. There are some very helpful maps done by Heather Gabriel Smith of the Gaelic placnames on her website
here
, and you will find a map with a searching device
here
.
When someone in Nova Scotia asks another how they are one might say 'Dè a'
saoghal
a th' agad?'.
At the end of a conversation, saying goodbye to one another, instead of 'tìoraidh' 'Beannachd leat/leibh' is more common. In a conversation it is more than likely one would say "Dia na thoiseach!". I am aware of phrases like these in South Uist, Morar and Barra, districts from which the majority of Gaels from Nova Scotia came. I should also point out that though these are the common places from where the Gaels came many came from Lewis, Harris, the Isle of Skye, Wester Ross etc. to settle in Canada. Nova Scotian Gaelic is a mix of various dialects in many ways, and they all play an important part in the history of the Gaelic devlopment of the region.
In terms of surnames, one asks 'Cò b' athair dhut?' ('Who's your father?') for asking someone's surname. This is the 'ancestoral' naming way that the Gael used commonly. For example my name is Calum son of Hugh, son of David, son of Charles, son of Ronald, following the names of my predecessors back.
'Amadan' is used in used in Nova Scotia as well as '
Gomach
' or '
gomag
' today.
Nothing is described as 'uabhasach', 'fuathasach', 'uamhaidh', 'fiadhaich mhath' but it is described as '
gàbhaidh
' ('very') but 'uabhasach' is heard commonly today as well in Nova Scotia. They say they are 'cuimseach math' instead of 'ceart gu leòr' ('alright'). One could say that they are 'an
eataras
' as well for feeling 'meadhanach math' (reasonably well). From what I heard there are other terms which have had the influence of english, perhaps, that is common in some areas. For example 'Fhuair e pull' – this means that someone had something really difficult to do. This is similar in the same way that that people are 'pulled to work' – in Scots in the North-East of Scotland it's 'Yowking-time' the time that one would start their day of work.
I shall see you in the next blog with the names on animals, names for the weather and other phrases. Let us know about words and phrases that you know of on Facebook or
facebook
and
twitter
.