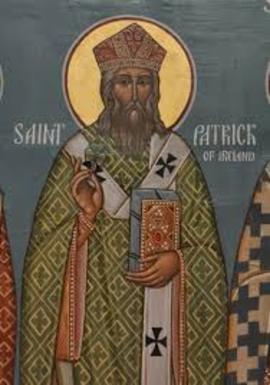 Là Fhèill Pàdraig (2)
Posted by Calum on 27th March
We are contunuing with information about Saint Patrick's day and Saint Patrick because we have an abundance of information and folklore connected to them.
In the book "Gaelic Proverbs", by Alexander Nicholson, the phrases "Cha pàigheadh a' chàin a bh' aig Pàdraig air Èirinn e" ["He wouldn't pay Saint Patrick's tribute for Ireland"] and "Dh'itheadh e 'chàin a bh' aig Pàdraig air Èirinn" ["He would eat Saint Patrick's tribute for Ireland"] can be found, with the sencond one in the recording "
Còig air fhichead seanfhaclan Gàidhlig
", with Nan MacKinnon, on
Tobar an Dualchais
.
There is a proverb recorded in Manx Gaelic in the book "
The folk-lore of the Isle of Man: being an account of its myths, legends, superstitions, customs & proverbs, collected from many sources-
" by A.W. Moore, that recounts the importance of working in Spring after Saint Patrick's day:
"Laa'l Pharick arree, yn dow gys e staik as y dooiney ass e Liabee." ["Saint Patrick's day [of] Spring, the ox to the stake and the man from his bed"].
There is a lot of Folklore connected to Patrick himself, especially with
superstitions
. In the book "Irish Superstitions", by Dáithi Ó hÓgáin, it was thought that the cave on the island of Lough Dearg was a door to hell. "St Patrick's Purgatory" was it's name. In the same book it was believed that Saint Patrick Patrick converted Crom Dubh to the Christian faith and this marked the changing of the pagan event "An Lughnasa" ("An Lùnastal" in Scotland) to be a part of the Christian religion. I wouldn't have the time to tell the entire story but if you have an interest do a bit of research about "
An Lùnastal
" and it's connection to Saint Patrick.
Saint Patrick is greatly praised in Mann, with their amount of folklore and placename-lore epecially. I would greatly recommend the
website
and
facebook
page, "
Culture Vannin
" to you. According to folklore Saint Patrick came to the island about 400 AD, and there is doubt as to where he placed his first step on the island but there is a suspicion that "St Patrick's Isle", in Peel, or an island that submerged two miles from the Jurby coast was the place. There is another story that the Curlew lifted him to the coast of the Sound and Patrick blessed it so that no one would it's nest any more and that it's nest would be hidden from people searching for it. A trail of his first step was marked and covered with a cement box. "Cill Pherick" [Patrick's Monastic settlement] was established as well, according to the island's folklore, and was built with stones from Ireland and that they were carred over the sound by the devil himself! There is a field where Patrick hurt his leg on a thorn and enraged by this he cursed the field. After realising his embarrasment and regret he promised himself that he would sleep on a slap in the field and that he would make a pillow out of a boulder: "Liabee Pherick" [Patrick's bed] was the name of the slab. Saint Patrick had a chair as well on the island, in Garth, Marown with the name "
St Patrick's Chair
", or "
Chairn-y-Pherick
" in 'Magher-yn-Chairn' ["Field of the Lord"], where he used preach to the folk of the isle. He cleared
snakes
,
frogs
, devils and magicians from the island. There is a rumour that is someone sits on the chair that they won't be tired any more. There are many wells on the island that are named after the saint himself likewise, with healing properties as well.
Back in Scotland Saint Patrick was blessed and we used to petition him, especially in the incantation "Iomairt Clèibhe":
"Altraim ort, a ghlac ghìongach,
Mar air thalamh sléibh a-nochd;
Ort fhéin do shaighead, a Ghréigein!
Is déin agus is déistinneach do lot.
An eab a chuir Pàdraig féile
Ri màthair rìgh an Ibhir
A mharbhadh nam béistean
Bha ri féithean a cridhe."
I came across this story in the book "Historic Kintyre", by "West Highland Series No. 7", that was really interesting to tell: When the old Gaels came to Scotland many of them moved to the south end of Kintyre with the first king of Dalriata, King Fergus MacErc, and his followers. They took and ferried soil from the Glens of Antrim to Kintyre and the glens in Kintyre were settled with Irish soil. This was advantageous because the same earth that they took with them was under the influence of the same miracle that Saint Patrick did, because he spread and drove the snakes and other bad creatures from Ireland and a snake or creature was found in the glens where it was cultivated. The name of the glen is called "Gleann Thìr Fhearghais" ["Glen of the Land of Fergus"].
Again, this isn't every piece of information we have about Saint Patrick in this blog but I hope you enjoyed it. Do you know any of the words, phrases, proverbs and folklores above? Do you have any other information? Let us know on
facebook
,
twitter
and our own
website
!
Archived Posts