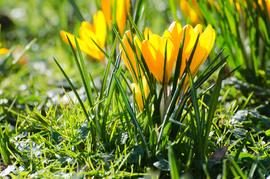 Mìosachan nan Gàidheal: An t-Earrach (Pàirt 4)
Posted by Calum on 1st April, 2021
Welcome back! With the amount of blogs that I have written already about Spring you will be looking forward to the next season! But don't worry, it won't be long until Summer. We shall have a look at the last month of Spring: April.
An Giblean/Mee s'jerree yn arree/Yn Avril/Cèitein na h-Òinsich.
"Cèitein na h-Òinsich" is said about this month, representing the brief moments we will have summer weather until the poor weather returns again. Because the weather is tricking us in this way it is very similar to the cuckoo, the "Òinseach" one. This saying is said in The Isle of Man of this month:
"Tra heidys Avril dy-bing e charnya, 'Sy theihll vees palchey traagh as oarn." ["When April shall shrilly sound his horn, On Earth there will be plenty of hay and corn."]
"
Bàrr dearg
" is starting to be harvested by this time.
01/04 –
Diardaoin Bangaid
/Là Brochain Mhòir (this year.) "Diardaoin Bangaid" ["Maundy Thursday"/"Holy Thursday" – Thursday before Easter] is on this day this year. On this day, if winter has been quite scarce for seaweed, a cauldron or big bowl of porridge is made and it is poured into the sea, with the hope that the sea will give seaweed back to you. There is a lot of lore about this day and we will have to write another blog about it.
01/04 – Là na Gocaireachd/Gugaireachd/Latha nan Car/Là na Feachaireachd ["April Fool's Day"]. We'll have "Là na Gocaireachd" on the same day as "Diardaoin Bangaid" as well.
02/04 –
Dihaoine na Ceusda
(this year) ["Good Friday"]. There is an account by Bishop Phillips in the Isle of Man about "Jy-heny-ghayst,": "Good Friday... was a day on which several superstitious customs were observed. No iron of any kind was to be put into the fire, and even the tongs were laid aside, lest any person should unfortunately stir the fire with them, a stick of the mountain-ash (
cuirn
) being used as a substitute. To avoid placing the iron griddle on the fire, a large thick cake, called a
soddag
, which is triangular in shape, was baked on the hearth. It was also a custom for people to go to the shore on this day to gather shell-fish." We have the same custom, that iron shall not be put in the ground on this day.
03/04 –
Disathairne na Càisge
(this year) ["Holy Saturday"].
04-11/04 –
Seachdainn na Càisge
(this year) ["Easter week"].
04/04 –
Didòmhnaich na Càsige
/A' Chàisg Mhòr (this year) ["Easter Sunday"]. In the book "The Folk-lore of the Isle of Man," by A.W. Moore the following is written about "Didòmhnaich na Càsga": "It was believed that anyone who went up to the top of a high hill on this morning to watch the sunrise would see the sun bow two or three times, as if in adoration to the risen Saviour. The superstition that the sun bowed or danced on this day was once very prevalent in England..." It is written that we had the same custom as well, dancing after rising." There are phrases about Easter as well:
"Gaoth tuath na Càisg'" is said about the weather on this day.
"Earrach fada 'n dèidh Càisg."
"Gléidhear cuirm an dèidh Càisg" is said to remind others to be dilligent in terms of their work and that there will be enough time for merriment after.
05/04 – Shenn Laa'l Moirrey y Sannish ("Seann Là Fhèill Moire an t-Sanais"/"Lady Day of Old.") This day was celebrated on the Isle of Man centuries ago.
11/04 –
Didòmhnaich Mìn-Chàisg
/Càisg nam Bodach ["Low Sunday."]
As is customary to the Gaels we have many proverbs for the changes of the weather, here is one of them:
"Chiad Di-Dòmhnaich den dara earra-dhubh san earrach."
15/04-14/05 – An Cèitein. "An Cèitein" is said to start, apparently, a fortnight before May-Day and a fortnight after, with "Beltane" bang in the middle.
"Is fheàrr sneachda sa Chèitein na bhith gun uisge."
17/04 -
Bailc na Bealltainn
– This weather-marking is celebrated a fortnight before May-Day. This will be celebrated the day the waters and the waves of the ocean are swollen, with the weather becoming a little warmer too. This is shown in this phrase:
"Masa Bailc-Bhealltainn bhlàth, Masa turadh an treas là; 'S masa gaoth an-ear a-rithis, Is cinnteach gum bi meas air chrannaibh."
25/04 –
Didòmhnaich Deas-ghabhail
(this year)/Laa'l Markys-yn-sushtallagh ("Maughold/St. Mark the Evangelist's Day"). "
Oie Noo Markys
" ("Oidhche Naoimh Marcais) is said in the Isle of Man about this day. This is a special day and you can read more about it in the blog "
Oidhche Naoimh Marcuis
" about it.
We are done now for holy days and Spring fairs but we shall continue with more of them for the start of summer next month! There must be some days and fairs that I didn't name, but do you know any holy day or fair that I did not mention? Let us know on
facebook
,
twitter
and our own
website
!
Archived Posts
2021
2020
2019
2018
2017
2016
2015
2014