The Historical Dictionary of Scottish Gaelic (HDSG) was established in the Department of Celtic, University of Glasgow in the year 1966 by Professor Derick S. Thomson. Kenneth MacDonald, the dictionary's editor, described the aims of the dictionary as follows:
The aim of the project is to produce a dictionary of Scottish Gaelic which will illustrate the history of all recoverable words in the language by means of citations selected from all available sources. This involves the scrutiny of manuscripts and printed sources ranging in date from the sixteenth century to the present, as well as the collection of hitherto undocumented oral vocabulary. (The Companion to Gaelic Scotland, 62)
The task set by former members of the Department of Celtic at Glasgow was a highly ambitious one given the available resources. Despite their having completed an enormous amount of work, it was not possible to sustain a sufficient team to produce the intended published dictionary. With the retirement of Departmental staff associated with HDSG, the productive gathering stage of the project was finally suspended in 1997. Its broad aims are now encompassed within the new interuniversity project Faclair na Gàidhlig, whose main objective is to produce the much needed historical dictionary, comparable to resources already available for Scots and English such as the Dictionary of the Older Scottish Tongue and the Oxford English Dictionary.
Excerpting
All collections were to be excerpted onto paper slips, with each slip containing: headwords, catchwords, contextual quotations, glosses, phonetic transcriptions, sources and any other relevant information. Some 312 key published works (including book, journal, magazine and newspaper titles) were mined, and of these a total of 216 were comprehensively excerpted onto dictionary slips. The surviving paper slip archive consists of over 500,000 slips.
Excerpting from printed sources was conducted mostly by an estimated group of more than 100 voluntary collaborators from Scotland, England, Ireland and Canada but also by project staff. These include:
Chrissie Bannerman (Balmaha)
Ronald I. M. Black (Glasgow)
Isa Caird (Lenzie)
Christine E. Cameron (Jordanhill)
Catherine Campbell (Balivanich)
J. L. Campbell (Canna)
Lachlan F. Dick (Inverness)
G. D. Donald (Tiree)
Dr Alison Fergusson (London)
A. Fraser (Inverness)
I. A. Fraser (Edinburgh)
Donald Grant (Glasgow)
Kenneth C. Grigor (Glasgow)
D. G. Howells (Glasgow)
A. J. Lane (Essex)
I. MacAskill (Lochmaddy)
Mary Macaulay (Edinburgh)
Rev. M. A. MacCorquodale (Callander)
R. Maccrimmon (Uig, Skye)
I. MacAskill (Lochmaddy)
Angus Macdonald (Penicuik, also Loanhead)
Chrisann Macdonald (Jordanhill)
Donald Macdonald (Edinburgh)
Finlay J. Macdonald (Glasgow)
Dr George MacDonald (Jersey)
Mrs Katie M. Macdonald (Lochmaddy)
K. D. MacDonald (Glasgow)
Mary Macdonald (Jordanhill)
Norman Macdonald (Dornoch)
Rev. Roderick Macdonald (Insh)
Sr Margaret MacDonell (Cambr. Mass.)
Rev. Dr John MacInnes (Fortrose)
Calum MacIver (Arnol) [?]
Margaret MacIver (Jordanhill)
Morag Maciver (Jordanhill)
Bella Mackay (Jordanhill)
John MacKay (Glasgow)
Mrs M. MacKenzie (Edinburgh)
Robert Mackenzie (Applecross)
Rev. A. A. MacKillop (Carloway)
J. MacKinnon (Glasgow)
John Mackinnon (Broadford)
Roderick Mackinnon (Perth)
Catherine M. MacLean (Glasgow)
John Maclean (Dunoon)
John Maclean (Oban)
Peter C. Maclean (Falkirk)
Alexander J. MacLeod (Tarbert, Harris)
Angus Macleod (Carloway)
Ann MacLeod (Jordanhill)
Calum MacLeod (Durness)
Major C. I. N. MacLeod (Antigonish, Nova Scotia)
Mrs D. MacLeod (Contin)
Duncan MacLeod (Gairloch)
J. MacLeod (Lewis, Bernera School)
Mrs J. Macleod (Glasgow)
John Macleod (Dundee)
Malcolm MacLeod (An Comunn Gàidhealach)
Mary Etta Macleod (Jordanhill)
Mary M. Macleod (Barvas)
Rev. Roderick MacLeod (Berneray, North Uist)
Catherine MacMillan (Jordanhill)
Roderick MacNeil (Glasgow)
Alick J. Macrae (North Kessock)
Dolina Montgomery (Glasgow)
Jessie Morrison (Boydell) (Inverness)
Donald Morrison (Oban)
Margaret M. Morrison (Jordanhill)
Rev. Norman Morrison (Garve)
R. Morrison (Crossbost)
George Moss (Kessock)
Rev. T. M. Murchison (Glasgow)
Mary C. Murray (Glasgow)
Norman Murray (British Columbia)
Colum Nicolson (Portree)
Colm O'Boyle (Aberdeen)
Anne Reilly (Coatbridge)
Phyllis Reoch (Edinburgh)
Dr James A. Ritchie (Kirkintilloch)
Rev. Kenneth Ross (Gigha)
Rev. Roderick Smith (Edinburgh)
James Stevenson (Edinburgh)
R. S. L Stokoe (York)
Professor D. S. Thomson (Glasgow)
James Thomson (Edinburgh)
James Thomson (Grantown on Spey)
Dr Robert L. Thomson (Leeds)
Alexander Urquhart (Stornoway)
Dr M. Bruce Watson (Skye)
Dr A. A. Wilson (Hamilton)
HDSG was funded by the Carnegie Trust for the Universities of Scotland, The British Academy and a number of other bodies.
For more information on collections made of vernacular Gaelic, see the Fieldwork Archive.
For further reading about HDSG, see:
Gillies, William and Pike, Lorna. 'The Last Hundred Years', in Scotland in Definition: A History of Scottish Dictionaries, ed. by Iseabail Macleod and J. Derrick McClure (Edinburgh: John Donald, 2012), 236–59, esp. 251–53.
Macdonald, Kenneth D. 'Dictionaries, Scottish Gaelic', in The Companion to Gaelic Scotland, ed. by Derick S. Thomson (Oxford: Blackwell, 1987 [1983]), 61–63.
Ó Maolalaigh, Roibeard. '"Bochanan Modhail Foghlaimte": Tiree Gaelic. Lexicology and Glasgow's Historical Dictionary of Scottish Gaelic', Scottish Gaelic Studies 24 (2008), 473–523. Also available at: http://eprints.gla.ac.uk/4830/1/4830.pdf
Posts and staff connected with HDSG
Ronald Black: Manuscript excerpting 1973–77
Alan Boyd: Fieldworker 1981
Richard Cox: a variety of appointments related to computerisation aspects of the project: 1985–96.
Anja Gunderloch: Researcher; compiled numerous useful reports on HDSG activity and archives: 1997–98
Ruth Llewellyn: Research Assistant 1984
Professor Donald MacAulay: Director 1991–95
Kenneth D. MacDonald: Editor 1966–97
Angus Martin: Fieldworker 1974–78
Calum Matheson: Research Assistant 1977–79
John McShane: Research Assistant 1979
Donald E. Meek.: Assistant Editor 1973–79
Catriona Murray: Editor 1985–86
Professor Cathair Ó Dochartaigh: Director 1995–97
Alick O'Henley: Fieldworker 1987–88
Ian Quick: Assistant Editor 1979–81 and various appointments during 1980s until 1990.
A. J. Smith: Fieldworker 1972
Professor Derick S. Thomson: Director 1966–91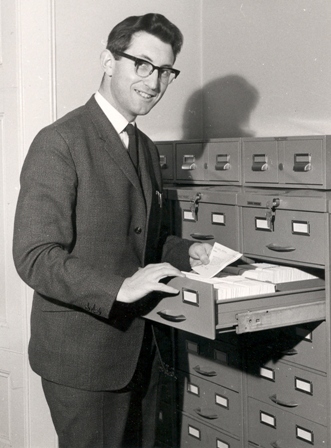 Kenneth D. MacDonald pictured with the HDSG paper slip archive (1969)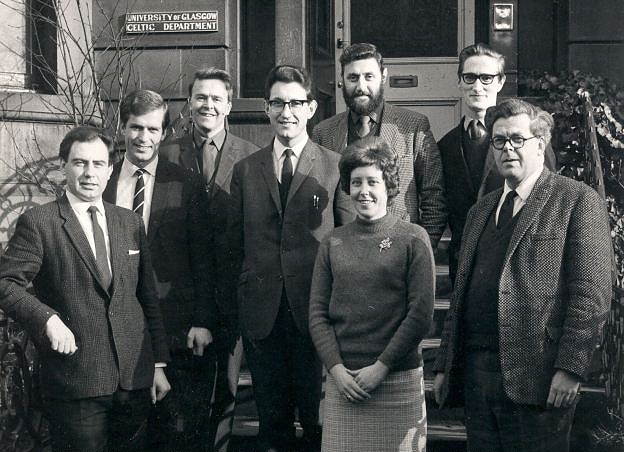 Department of Celtic, University of Glasgow (Lillybank Gardens) [1969?]. From left to right: A. J. Smith, James Gleasure, Donald Howells, Kenneth MacDonald, Finlay MacNeill, Christine MacInnes, Donald John MacLeod, Professor Derick Thomson.