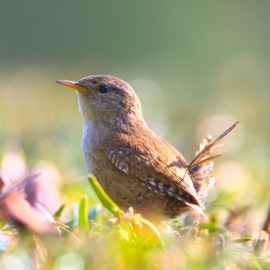 Òrain Breugach
Posted by Calum on 23rd September, 2021
There are two proverbs in Gaelic that are very true "Cha robh sgeulaiche nach robh breugach" ["There was never a story-teller that wasn't deceitful"] and "Cha robh ceileach nach robh breugach" ["There was never a reciter that wasn't decietful"] because even though the story looks and sounds true to us there is always a lie of a half-lie within regardless. But I wonder if the situation is the same for a Songter, and songs even? There are a number of times where you can find, hear and write a "Òran Breugach" ["A Deceitful Song"], but why were they written then? It looks as though they were written for many reasons. We shall have a look at some of them in the blog here.
In every song there is imagery of birds, the playing of musical instruments and dressings of clothes of different materials. This is clear in the "Òran Breugach" in the book "Tales of Highland Perthshire" by Lady Evelyn Stewart Murray. By the looks of it there is a story connected to it; There was a man and he was about to marry a woman, but he was told that he would be hanged by the woman's father if he didn't write a song without a word of truth in it. He made the song but he said one word of truth in the end. Therefore he wasn't hanged and they married:
"Tha cù an dèidh mo ghaoil orm,
'S cha bhi mi beò às t' aoghmhais.
A' mhuc a' dèanamh an t-sìd dhuinn,
'S an cat a' dèanamh phrìneachan,
Am broc a' cur ri pìobaireachd
'S a' chearc a' dol a chìreadh.
Gu faca mise na feadagan
'S iad 'fighe air beairt a' breabadairean,
'S na bh' ann do eòin bheaga ann
'Fighe air bheairt gun aodach.
Gu faca mise na lachagan
'S iad a' cur ri clachaireachd,
An dreadhan-donn 's barr' aige
'S e tarraing clachan 's aol dhaibh..."
["There is a dog chasing after my love
And I cannot live without you.
The pig is making silk for us
And the cat is making pins,
The badger is playing the pipes
And the hen is cardin wool.
I saw the plovers
And they were weaving on a weavers loom,
And all the small birds there
Were weaving on a loom with no cloth.
I saw the little wild ducks
And they were working as stonemasons,
The wren with his barrow
Carrying stone and lime for them..."]
There is another version of the same song with the name "
Òran an Dreathain-Duinn
," sung by
Alasdair Stiùbhairt
, on
Tobar an Dualchais
.
In the same book there is "Òran Breugach Eile" but there is no story behind it, so far as we know:
"Chunna mi na chunna mi
Nach fhaca duine mo sheòrst,
Chunna mi na feadagan
Len caibeachan uaine mòine.
Bha pìob mhòr air an fhitheach,
Fiodhull air an ròcais,
Targaid air a' bhutagochd
'S musgaid air an smeòrach,
Claidheamh fiar air an dreathann,
'S e gu leathann còmhnard."
["I saw that which I saw,
That a person of my kind did not see.
I saw the plovers
With the green peat-spades,
The raven had a set of bagpipes,
The rook had a fiddle,
The snipe had a shield
And the linnet had a musket,
The wren had a curved sword
Which was broad and smooth."
There is "Pàirt de Òran Breugach" there as well:
"Còta cnàimh agus putan muiceileach,
Brògan dan deas-mhuinsidh
Agus crùidhean mahagany."
["A bone coat and a button of pork,
Shoes cobbled from well-made wincey,
And mahogany horse shoes.]
There is a great example on Tobar an Dualchais with the name "
Peiteags' liath air Gille-Brìghde
" by Ailean MacFhionnain, sung by his grandson,
Seònaidh Caimbeul
:
Pheiteag ('s) i liath air Gille-Bhrìdge
'S i gu dàrsa sèimhe
Bha seacaid on '
Mharina'
air
'S e sìoda bha na lèine.
Cailleach-oidhche is aparan oirre
A' seatadh ri Caolach Phearsoin
Bha guta-bochd is pìob aige
Cluich ruidhlichean 's srath spè dhai'.
Gorra-chridhe is pìc aice
A' mionnach' anns a' bheurla
Gun bhuail i bomb air eisirean
Is slige chuaidh gu
eight
-da.
Bha corran-creitheach-sa cuideachail
Is eòin faram
Scotch Gray
air
An claidheamh a bh' aig aig Brus aige
Bu luath a chanadh eite.
Bha cràbag ann agus partan ann
Is iad a' dannsadh deis is favourite
Bha breac an t-sìl is '
flag'
aige
A' glaodhach suas ri Eubal."
Before I finish this blog I shall leave you with this verse, "
'S breugach, 's gur breugach thu
," sung by
Coinneach MacLeòid
. The verse can be sung if you hear an "Òran Breugach!"
"'S breugach gura 's breugach thu
'S tu as breugaiche na 'n cù
'S breugach gura 's breugach thu
Is dhut a bhith càineadh."
["Deceitful You are deceitful
You're as seceitful as the dog
Deceitful you are deceiful
With you miscalling."
There we have it for deceitful songs again, I hope you that you don't believe that everything is now a lie after reading this! Do you know any of the songs above? Do you know a deceitful song or verse as well? Let us know on
facebook
,
twitter
and our own
website
!
Archived Posts
2022
2021
2020
2019
2018
2017
2016
2015
2014