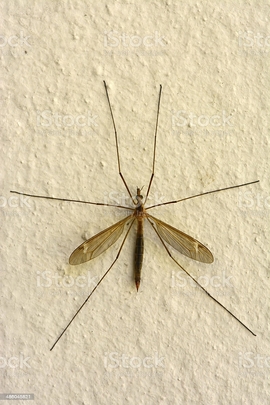 Faclan Ionadail airson "Daddy-Long-Legs"
Posted by Calum on 10th September, 2020
A couple of days ago I was "travelling the glens" in Glen Auchtertyre before a "Daddy-Long-legs," or "crane-fly," appeared in my face. As soon as it appeared it left and I didn't know what to say to this wee beastie. I pondered if there were many words for it and that it would be good to to name them in a blog. Therefore, perhaps some of you are unwilling to talk about beasties and insects but we shall have a look at the names of this insect!
Starting in the Western Isles, close to the Butt of Ness, in Barvas
Bodach-na-mòintich
["Old man of the Moor"] can be heard. It makes sense because the moor is an appropriate place for "the old man" here. In Crowlista and Bayble there is
Murchadh na Mòinteach
["Murdo of the Moor"] in the two districts, and the most common name we have for this creature is found in Caversta;
Tarbh-nathrach
["The serpent-bull"]. "Tarbh-nathrach" is what I learned first before I learned there were different names in different districts. In West Uig it is interesting to see there is another personal name used instead of "Murchadh" and that is
Calum an t-Sabhail
["Calum of the Barn"] is its name. Going South to Harris there is another name similar to
Calum an t-Sabhail
to be found and it is
Calum-Figheadair
["Weaver, Knitter-Calum"]. The people of the area must have been keen on the name and I could understand why (I am quite biased about it...) This name was in Quidinish and in Leverburgh with the name
Caraide-Spàgach
["Flay-footed-Friend"] as well.
Over the kyle
Cailleach a' Bheing
["Old Woman of the Bench"] can be heard in North Uist. It is interesting to see that the gender of the creature is changed here, it is almost "Mummy-Long-Legs!" That makes sense as the name
Cailleach-Chòsach
["Porous/hollow old woman"] is used for a
Sgleutag
["Little slated-one"] (a Slater, Woodlouse) and other beasties of the sort. In South Uist
Breabadair
[Weaver] found, in South Boisdale, and this in interesting because some will say "Breabadair" for a spider in some parts of the wider Gaelic-speaking areas. In some areas it is an interchangable word and in others there is another respective meaning to them.
Over the Minch
Tarbh chuileig
["Bull-Fly"] was found in the Isle of Skye and over the Kyle of Raasay both
Colgadan-na-lampa
and
Gobhladair-na-lampa
["Little forked-one of the lamp(?)"] can be heard. To the inner Hebrides the name
Cuibheall-chrò
can be found in Caolas, Tiree, and the word can be used for a specific toy as well [have a look
here
.]
We have another
breabadair
here in "Fieldwork";
Breabadair-ladhrach
["Hoofed -Weaver"] was recorded in Applecross. Going to Strathglas, somewhat similar to
Breabadair
,
Figheadair-fodair
["Straw-weaver"] was found. It is the same case with
figheadair
as it is with
breabadair
, that people of other areas will say
figheadair
for a spider and other Opliliones. There is another word similar to "Damhan-allaidh" [spider] to be found in Killin and it is
An Damhan rong mhòr
. It is interesting to see that and that the words are interchangable with each other. The name
Gille-giobanach
["Trimmed-lad(?)"] is recorded in Strathglas for the regular word in Kintyre.
In the dictionary "Gaelic of the MacKay Country" the name
Anndra nan Cas Fad'
["Andrew of the Big Legs"] is heard, another name similar to
Murchadh na Mòintich
and
Calum-Figheadair
and I'm fond of that name because "Anndra" ["Andrew"] in my family! This is a good blog to be biased, despite the subject of the blog! In the dictionary "Gaelic Words and Phrases from Wester Ross" by Roy Wentworth the name "Corra-bhainne" is found.
Although we have named many names for this beastie but there will be many that I haven't recorded here but if you know any other names for this beastie let us know on
facebook
,
twitter
and our own
website
!
Archived Posts
2020
2019
2018
2017
2016
2015
2014