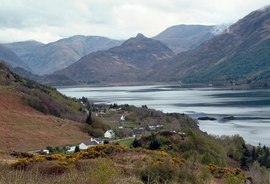 Far-ainmean Bhailtean Ionadail (Pàirt 1): Ros an Iar
Posted by Calum on 27th February
"What is your name?" This is one of the first questions that one learns in any language, it is requisite and this is how people remember and recognise us. It is part of our identity and our image, as a part of us naturally. This is evident in the riddle:
"Tha tòimhseachan agam ort,
Chan e d cheann, chan e do chas,
Chan e d' èideadh, chan e d' fhalt,
Chan e ball a tha nad chorp,
Ach tha e ort, 's cha tomhais thu e".
[I have a riddle for you,
It is not your head, it is not your foot,
It is not your clothes, it is not your hair,
It is not a limb in your body,
But it is on you, and you cannot measure it.]
For as long as we can remember
far-ainmean
[nickname], or
frith-ainmean
,
anaisg
or
ainm-baidh
if you like, have been an important of Gael's names, especially when the same name, or surname, is common in your area, this is true with
far-ainmean
like "
Donald 'Splash' MacKillop
" "
Donald 'Beag' Walker
," "
Calum 'Calum Dhòmhnaill Eòis a' Phost' MacNeil
"and "
Mary 'Màiri Mhòr nan Òran' MacPherson
". I have a nickname myself, "Calum a' Bhaindseo" [Calum of the Banjo]. An nickname could explain an event that could have happened to you, or recognise your appearance, your nature, your work or your hobbies likewise – that's my case in because of music. This can extend to people, folk, districts, or different countries, far and wide, all all the same. We have been working on Roy Wentworth's Dictionary "Faclan is Abairtean à Ros an Iar" [Words and Phrases of Wester Ross], an estimable, valuable, resourceful book full of words, phrases, placename folklore, poetry, songs, riddles, ditties and folklore, and he has recorded the nicknames of towns for us as well, therefore, let's have a look at them from district to district.
Applecross
Alligin: "saoidheánan Àiliginn" [Alligin saithes] and "adhaichean Àiliginn" [Alligan livers].
Ardheslaig: "buic Àird Heisleag" [Ardheslaig bucks] and "Na Cràcánaich".
Arinacrinachd: "Druinich [Draoidhean] Àirigh nan Cruithneachd" [Arinacrinachd druids].
Annat: "Daoin-uaisle na h-Annaide" [Annat gentlemen].
Badan Mhugaidh: "Mùgairean Bhadan Mhùgaidh" [Badan Mhugaidh surly folk].
Balgaidh: "Balgairean [Madaidhean-ruadh/Sionnaich] Bhalgaidh" [Balgy foxes].
Cuaig: "Tùthagan Chùthaig" [Cuaig patches] agus "Rùcánaich Chùthaig" [Cuaig rumblers].
Diabaig: "Cnùdánan Dhìobaig" agus "Cnòdain Dhìobaig" [Diabaig gurnards].
Doire: "Tuath an Doire" [Doire tenantry].
Doire-aonar: "Bruic Dhoir' Aonáir" [Doire-aonar badgers].
Fearns: "Tùchánaich na' Feàrn" [Fearns hoarse folk].
Fearnbeg: "Eireagan na' Feàrna Beaga" [Fearnbeg pullets].
Fearnmore: "Coin na Feàrna Móra" [Fearnmore dogs].
Kalnakill: "Slatan-mara Chal 'a Cille" [Kalnakill tangle-stems].
Kenmore: "Ceann-phollánan na Ceannmhoire" [Kenmore tadpoles].
Lonbain: "Bodaich bheaga bhireach a' Lon Bhàin" [Lonbain sharp wee old men].
Shieldaig: "Gathan-dubha Shìldeág". Roy Wentwoth has the following meaning in his dictionary: "The people of Shieldaig (Applecross) have the nickname "gathan-dubha Shìldeág," where "gathan-dubha" may either mean beard or awns of oats or barley, or else Dwelly's "storm-riders, the dark undulations seen in falling rain, when gusts of wind compress and scatter the rain like the waves of the sea".
Gareloch
Achgarve: "Sgairbh an Acha Ghairbh" [Achgarve shags].
Aultbea: "Rodoin [Radain] an Fhàin [Aultbea rats]".
Aultgrishan: "Crùbagan Allt Grìseán" [Aultgrishan crabs].
Cove: "Buic na h-Uamhach" [Cove Bucks].
Gareloch: "Truisg Gheàrrloch" [Gairloch codfishes].
Inverasdale: "Cannibals Inbhir Àsdail" [Inverasdale Cannibals].
Laide: "Caoirich mhaola 'Leothaid" [Laide cheviot sheep].
Melvaig: "Buic Mhealabhaig" [Melvaig bucks]. Other nicknames have been given for Malvaig itself: "A' Bhoilc," and therefor anyone from Melvaig in called a "Boilceach".
Sand: "Eich Shannda" [Sand horses] agus "Làraichean Shannda" [Sand mares].
Loch Broom
Coire: "Fir a' Choire" [Corry men].
Little Loch Broom: "Crodh a' Locha Bheag" [Loch Broom cattle].
Scoraig: "Coin Sgoraig" [Scoraig dogs].
Ullappol: "Crodh Ulapol" [Ullapool cattle].
Urquhart and West Logie
Conan Bridge: "Geòcairean Dhroichid Sguideil" [Conan Bridge gluttons].

We have a large collection of Wester Ross placename far-ainmean, perhaps there are others that we don't know about or that aren't recorded here, but we shall stop here today with what we have. Do you know any of the placename far-ainmean connected to Wester Ross, or your districts? Do you have any ideas of placenames with interesting far-ainmean that woud be interesting to share? Let us know on facebook, twitter and our own website!
Archived Posts
2022
2021
2020
2019
2018
2017
2016
2015
2014