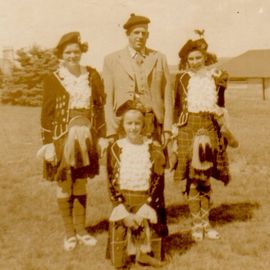 Am Màidsear Calum Iain MacNeacail MacLeòid (Calum Iain Smiggan)
Posted by Eilidh on 13th September 2018
Whilst working on our new audio archive,
Cluas ri Claisneachd,
I have learned so much about so many of people featured in it. However, today I wanted to talk about one man who was a real asset to Gaelic and, indeed, to other Celtic languages, but whose voice isn't actually
heard
on the recordings. That is Major Calum Iain Nicolson MacLeod (CIN MacLeod), or Calum Iain Smiggan as he was known to friends and family. We are very grateful to Mairead Maciver, a relation of Calum Iain's, for sharing her knowledge on Calum Iain and for the lovely photos.
Calum was born in Dornie, Kintail, on the 12th of March 1913. His father was John Nicolson Macleod who compiled
Bàrdachd Leòdhais
(published 1916) and who wrote 'Litrichean Alasdair Mhòir' for the
Stornoway Gazette
. John N used the pseudonym out of respect for Alasdair Mòr, his brother-in-law and Mairead's late grandfather, who helped him with the letters. He was originally from Kilmuir, Skye, but moved to Bernera, Lewis, where his wife Anna's family lived. John N. became headmaster of Bernera School, a position he took up in 1902. They moved to Dornie where John N. became the schoolmaster, and it was there that Calum Iain was born.
Calum Iain specialised in Celtic languages, attending both the University of Glagsow and the University of Edinburgh. He won the prize in Celtic for two consecutive years and was also awarded the Blackie Celtic Prize in Scottish Gaelic and Middle Irish, which was open to all Celtic students in Scottish Universities. Calum Iain married Iona Norma A Macdonald (1917-1998), born in Edinburgh. They had no children.
Calum Iain was crowned the Gaelic Bard at the National Mòd in Dundee in 1937, for his poem 'An Cuan Siar' – he was only 24 years old. He was involved in many things related to the revitalisation of Gaelic: for example, adjudicating at the Jubilee Mòd in Oban in 1953, and later judging Gaelic singing, Highland dancing and piping in Nova Scotia.
Calum Iain was also a Secret Agent during the Second World War, serving in the Intelligence Corps, possibly due to his ability to understand and speak several languages very well. He saw service all over the world: in Italy, Sicily, France, Austria, Germany and North Africa.
In 1949, Calum Iain emigrated to Nova Scotia. He was appointed by the Nova Scotian Government as Gaelic Advisor in the Department of Education's Adult Education Division between 1950 and 1958. He was then appointed Professor and Head of the Department of Celtic Studies at St. Francis Xavier University, Antigonish, a university which continues to have a reputation for its support of Gaelic language and culture. He said himself in an interesting
article
he wrote that he had to wear a kilt every day whilst he was Professor of Celtic Studies – imagine! He did a lot of good for Gaelic across the Atlantic, and many remember him as a great teacher, a great man, and a great Gael.
Calum Iain passed away in 1977 in Nova Scotia. We are so fortunate that he chose to gift the University of Glasgow, where he was once himself a student, his collection and his fieldwork, and that it is still with us today. Without his work, we wouldn't have as many wonderful songs and stories on
Cluas ri Claisneachd
as we do, and there is much more still to come from him.
Listen to one of the recordings Calum Iain made in Sydney, Nova Scotia in 1953
here
.
If you have any more information about Calum Iain Smiggan, or if you remember him yourselves, please get in touch on
Facebook
,
Twitter
, or by
e-mail
!
Archived Posts
2022
2021
2020
2019
2018
2017
2016
2015
2014