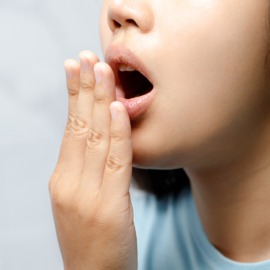 Mèananaich
Posted by Calum on 4th August, 2022
"Heich ho!" One of the worst things, seeing someone yawn and then feeling that you need to yawn as well!
There are many words from many different regions for it: "
A' Braos
" in Strathglas (very similar to the word "braoisg";
Meuranaich
in Stoer, Assynt; "
Mianan
" and "Mionanaich" in Glen Urquhart; "
Miaran
" and "Miaranaich" in Harris; "
Miaranaich
" in Barvas, Lewis; "
Mèinich
" in Embo, Sutherland.
But you will know how infectuous it is to refuse, or stifle, a yawn when someone has yawned, and we have a couple about just how "swift" that the
meananaich
is:
In Strathspey the phrase "Dh'fhalbhas am
meunan
o bhéul gu béul mar a dh'fhalbhas an t-éun o ghéug gu géug" ["The yawn leaves from mouth to mouth as the bird leaves from branch to branch"] is recorded in Transactions of the Gaelic Society of Inverness...", in an article by Seumas Grannd, about Strathspey Gaelic. We have a saying in our own corpus – "
Thèid am mianan o dhuine gu duine mar a thèid an t-eunan bho dhoire gu doire
" ["The yawn goes from person to person as the little bird goes from grove to grove"].
In the MacKay Country Gaelic Dictionary, by Seumas Grannd, there is the phrase "Farmad a'
mhianain
" ["Envy of the yawn"] for the same thing.
Despite how short the blog is this time you will be yawning anyway! Let us know if you enjoyed it. Do you know any of the words or phrases above? Do you know any different word or phrase? Let us know on
Archived Posts
2022
2021
2020
2019
2018
2017
2016
2015
2014