Current Team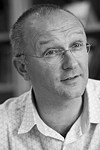 Professor Roibeard Ò Maolalaigh
Director
Rob(by) is originally from Dublin where he studied as an undergraduate and postgraduate at University College Dublin. He graduated with a PhD in Celtic Studies from the University of Edinburgh. He has worked at University College Dublin, the University of Edinburgh and the School of Celtic Studies, Dublin Institute for Advanced Studies, where he was Assistant Professor. He has worked as Professor of Gaelic at the University of Glasgow since January 2005 and was appointed to the established Chair of Gaelic in April 2010. He set up the project Digital Archive of Scottish Gaelic in 2006 and Corpas na Gàidhlig in 2008. Other digital projects in which he has been involved include Bibliography of Irish Linguistics and Literature and People of Medieval Scotland 1093–1314. Visit his page here.
Stephen Barrett
Research Systems Developer

Stevie is responsible for creating and maintaining DASG's web applications. He has 15 years experience as a developer and has created sites and systems for a wide range of organisations including The Royal Conservatoire of Scotland, The University of North Carolina at Chapel Hill, Glasgow Housing Authority, and Deutsche Bank.

Niall Bartlett
Corpus Assistant

Niall is from Brue on the isle of Lewis. In 2011 he completed an undergraduate degree in Scottish History at Glasgow University where he returned in 2012 to pursue Masters and Doctoral research in Gaelic cultural history with particular reference to the 19th and 20th centuries. In addition to this he has spent several years working in arts marketing. He also contributes to various cultural and political broadcasts on the BBC.

Garry Patrick Cooke
Corpus Assistant

Garry was born in Glasgow and brought up nearby in the historic town of Kirkintilloch. He studied Gaelic at the University of Glasgow and at the University of the Highlands and Islands (Sabhal Mòr Ostaig); and he has a particular interest in the grammar of the language. Before embarking on the study of Gaelic, Garry studied the languages and the cultures of the ancient Greeks and Romans, also at the University of Glasgow.

Andrew Dunn
Corpus Assistant

Andrew is one of the DASG corpus assistants and proof-reads the texts to be digitised. He is originally from the Isle of Lewis and studied at Aberdeen University before coming to Glasgow, doing Gaelic Studies and then Creative Writing. He has written one book and is working on his second.

Kate Langhorne
Corpus Assistant

Kate is from Baldernock, to the north of Glasgow. She learned Gaelic at Aberdeen University. After graduating in 2012, she did the Diploma in Gaelic Media, at Sabhal Mòr Ostaig, and since then has been working for Radio nan Gàidheal and BBC Alba. She also produced her own radio programme, which was broadcast on Radio nan Gàidheal in summer 2014. It was called 'Justice for the Left-hand.' Kate is involved in promoting Gaelic language and song through various community heritage projects across the country. She began work with DASG in December, 2014.

Abi Lightbody
Senior Audio Archive and Corpus Assistant

Abi Lightbody is from Fintry, near Stirling. She learnt Gaelic at the University of Glasgow and graduated in 2014 with an MA in the department of Celtic and Gaelic. She started working at DASG in September 2014 and started an audio archive in 2015, which will be available in due course.

Dr Tòmas MacAilpein
Corpus Assistant

Tòmas was brought up in Renfrewshire and the Black Isle. He studied Gaelic at Sabhal Mòr Ostaig, and then carried out postgraduate research in History at the University of Glasgow. He started at DASG in December 2016 where he is working on digitising the periodical, Gairm.

Dr Mark McConville
Researcher / Project Manager

Mark's role in the DASG project involves advising the team on technical and linguistic issues. He completed his PhD in Informatics at the University of Edinburgh in 2006 and worked as the Soillse Research Fellow at Glasgow University from 2010 to 2015. He is currently building a new kind of dictionary for Gaelic: Lexicopia.

Calum Ross
Corpus Assistant

Calum hails from the south of Aberdeen where he was born and raised. He was a student at Sabhal Mòr Ostaig where he received a degree with honours in Gaelic and Traditional Music in 2017. Calum's main interest is based in Gaelic dialects and their unique features. He often attends traditional music sessions in Glasgow and Edinburgh.

Olga Szczesnowicz
Senior Corpus Assistant

Ola is from Poland. She received an MA degree in Celtic Studies from University of Glasgow in 2009 and she has been working on the project since March 2008. After digitising most of the fieldwork materials generated by the Historical Dictionary of Scottish Gaelic (HDSG), she is now mainly involved in Corpas na Gàidhlig.

Dr Alasdair Whyte
Corpus Assistant

Alasdair is from the island of Mull. He studied as an undergraduate at Sabhal Mòr Ostaig and the University of Glasgow. He was awarded a PhD in Celtic Studies by the University of Glasgow in January 2017. He sings in Gaelic.

Dr Anndra Wiseman
Corpus Assistant

Hailing from Fort William, Lochaber, Andrew is a graduate of the Universities of Edinburgh and Glasgow. He has published many articles on various aspects of Gaelic cultural history. With a great interest in the digital humanities, he has previously worked on the Calum Maclean and Carmichael Watson projects, and is now currently working at DASG.
Past Staff
Shelagh Campbell
Wojtek Dziejma
Kerr Gibb
Dr Aonghas MacCoinnich
Ian MacDonald
Alana MacInnes
Ruaraidh MacIntyre
Calum MacLeod
Linda MacLeod
James MacParland
Shona Masson
Cailean Masterson
Susanna Naismith
Rosaidh Phillips
Ealasaid Pyper
Mairead Roberts
Daibhidh Robinson
Edit Wenelius