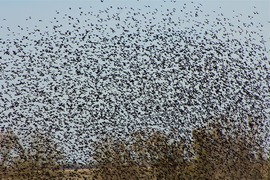 speil
Posted by Alasdair on 16 November 2017
There are several homographs recorded under this headword in the Faclan bhon t-Sluagh archive. For starters, "a spell" is the English definition recorded for
speil
in a record from Barvas in Lewis. This can be compared to
speil
"taking a turn at anything", recorded on a wordlist from South Uist produced by the Rev. Angus MacDonald D.D. A different application of
speil
was recorded in the
Northern Chronicle
in 1928. On this record,
speil
is identified as a variant of 'spealg' and defined as "thin cut of wood". The wordlist on which
speil
appears in this instance was produced by Sheriff J. MacMaster Campbell who gave his name to a trophy awarded to rural choirs at the National Mòd. The word
speil
can also be found in the name of a game recorded in Uig in Lewis. According to this record,
dogan speil
is an outdoor game played with a caman and ball.
I have a particular interest in the fifth result generated by
speil
in the Fieldwork Archive. This
speil
is defined as "flock of birds" and was recorded by Alex O'Henley in South Lochboisdale. This sense of
speil
appears to have deep roots, given that
speil
"cattle, flock, herd" is recorded in Old Gaelic (
dil.ie/38590
). This word is rarely found in Irish, according to T. F. O'Rahilly in the article referred to under the headword
speil
in eDIL, but I suspect that
speil
in one of these senses lies at the heart of a loch-name in Mull. The name of this loch, a name which I analysed closely here at the University of Glasgow recently, can be found in Corpas na Gàidhlig. "Lochspeilbh" is the form recorded by Mull writer John MacFadyen in his collection of original songs, poems and readings first published in 1890 entitled
An t-Eileanach
.
Do you use the word
speil
in a sense recorded in Faclan bhon t-Sluagh or otherwise? If so, we'd love to hear from you on
Facebook
or
Twitter
.