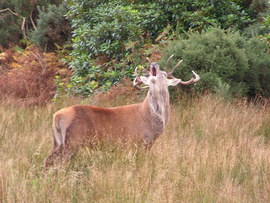 ròmhan, ròmhanaich
Posted by Abi on 23rd March 2017
Last week Kate discussed goats and today I'm keeping with the animal theme. In Dwelly's dictionary the work
ròmhan
means 'groan; wild talk, raving, rigmarole.' In DASG's
Faclan bhon t-Sluagh
, however, it can also mean a roar.
Quotation: Leig e ròmhan as. Notes: "ròmhanaich" used of the roaring of a bull. Above used of a man.
The word
ròmhanaich
was also gathered in Inverness-shire in 1969 for
'the roaring of stags
.'
There are many words in our database for
ròmhan
or
ròmhanaich.
The word
langanaich
was collected in Bayhead, North Uist, in 1980 with the meaning of '
the bellowing of deer.'
The word
bùireil
was used in Carloway, Isle of Lewis, for bellowing, such as that of a bull. Sometimes, however, it was also used for someone crying, such as a child. A good word was collected for bellowing in Port Wemyss, Islay –
nuallanaich.
Are there any words from your own area for
ròmhan
or
ròmhanaich?
We would be very happy to hear from you. We have pages on
Facebook
and
Twitter
but you can also leave your comments below our blogs